From the Twin Cities– Take Hwy. 61 through Cottage Grove and take 316 out of Hastings.  At 61, turn left and head straight into Red Wing.  In Red Wing the trail has two access points –  Lower A.P. Anderson Access and Old West Main Access.  See Red Wing city maps.
Lower A.P. Anderson Access

Approx 2 miles east of the Hwy 19/Hwy 61 intersection -Take the first right after the recycling center (across Hwy 61 from Red Wing Shoe)
There are signs posted on the highway to direct you. 
GPS Address and Coordinates:
3775 Highway 61, Red Wing, MN

44.571306, -92.597498
+44° 34′ 16.70″, -92° 35′ 50.99″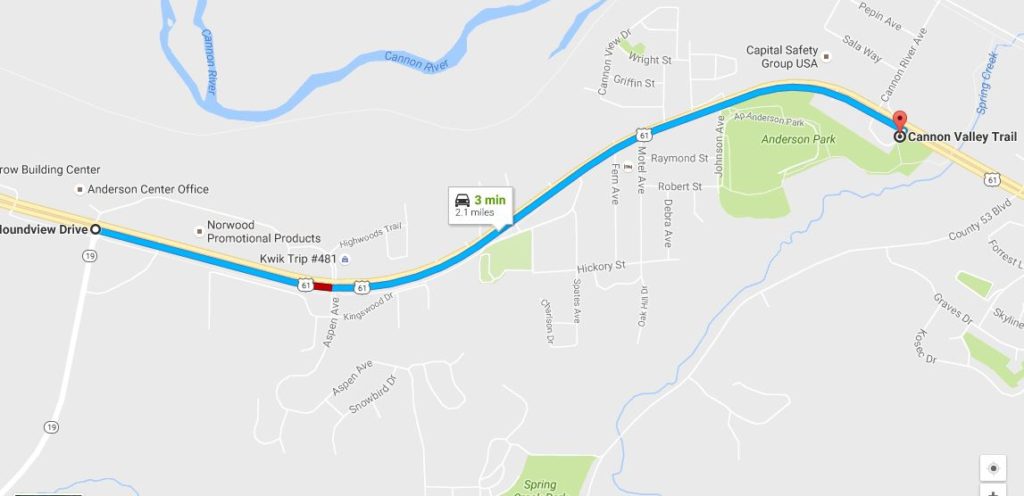 Old West Main Access
A little closer to downtown is the Old West Main Access.  Continue on Hwy 61 to the Bridge Street/ Hwy 61 stoplight. Take a left past the Chevrolet Dealership and onto Old West Main.
GPS Address and Coordinates:
2480 Old West Main St Red Wing, MN
44.565521, -92.567363
+44° 33′ 55.88″, -92° 34′ 2.51″