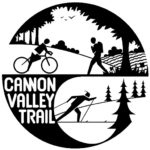 The Cannon Valley Trail is a 19.7 mile long trail that runs through diverse and spectacular scenery on a former Chicago Great Western Railroad line connecting the cities of Cannon Falls, Welch and Red Wing in beautiful southeastern Minnesota.
Paralleling the Cannon River, the Trail offers glimpses and panoramas of the valley and gradually descends 115 feet in elevation from Cannon Falls to Red Wing.  From overhanging cliffs to views of extensive wetland complexes, nature's seasonal changes are vividly displayed.
The Trail is open year round for bicycling, in-line skating, skateboarding, similar wheeled recreational devices, hiking, walking and cross country skiing.  Trail users age 18 or older must have a valid Wheel Pass when using the trail from April 1st – November 1st.
The Great Minnesota Ski Pass is required to cross-country ski on the Cannon Valley Trail.  Go to Winter Use of the Trail for more information on winter usage.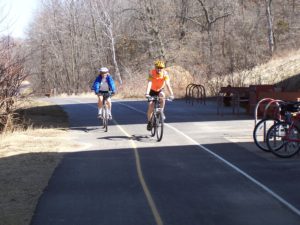 ---
Purchase Your 2018 Season Wheel Pass
Now is the time to purchase your 2018 Season Wheel Pass.  For only $25 you can bike the Cannon Valley Trail as many times as you want from now to November 1!!
Friends of Trail – watch for your spring newsletter coming out soon with your discount coupon!!
---
Use of  Electric Assist Devices on the Cannon Valley Trail
The Cannon Valley Trail has adopted a OPDMD (other power driven mobility devices) policy  for those individuals choosing to use an electric assist bike or a mobility device as a substitute for walking.
Please read our OPDMD Policy (other power-driven mobility device) for  trail regulations and limitations.
---

Wi-Fi now available at Welch Station Access!!
Wi-Fi service was installed at the Welch Station Access over the winter.
We hope this service will help you stay in contact with others and have better access to weather and emergency notifications.
Please note that internet/telephone service is spotty along the Cannon Valley Trail due to a number of 'dead' zones.
---
Please, no pets on the Cannon Valley Trail!
(Including those in baskets and trailers)