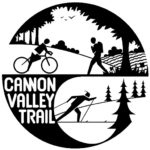 The Cool Crisp Days of Autumn have arrived.  Put on your jacket, a hat and a pair of gloves and enjoy the trail again before winter sets in.
---
The Cannon Valley Trail is a 19.7 mile long trail that runs through diverse and spectacular scenery on a former Chicago Great Western Railroad line connecting the cities of Cannon Falls, Welch and Red Wing in beautiful southeastern Minnesota.
Paralleling the Cannon River, the Trail offers glimpses and panoramas of the valley and gradually descends 115 feet in elevation from Cannon Falls to Red Wing.  From overhanging cliffs to views of extensive wetland complexes, nature's seasonal changes are vividly displayed.
The Trail is open year round for bicycling, in-line skating, skateboarding, similar wheeled recreational devices, hiking, walking and cross country skiing.  Trail users age 18 or older must have a valid Wheel Pass when using the trail from April 1st – November 1st.  The Great Minnesota Ski Pass is required to cross-country ski on the Cannon Valley Trail. 
From Rail to Trail
---
---