IMPORTANT UPDATES FROM THE CANNON VALLEY TRAIL!
PLEASE NOTE THE FOLLOWING FLOOD RELATED NOTICES AND CLOSURES:
9/24/16:  THE CANNON VALLEY TRAIL IS CLOSED FROM WELCH TO RED WING
9/24/16:    YOU ARE ABLE TO BIKE FROM CANNON FALLS TO WELCH, HOWEVER, WELCH STATION ACCESS IS CLOSED FOR PARKING.
9/24/16:  THE CANNON VALLEY TRAIL HEAD IN DOWNTOWN CANNON FALLS IS CLOSED.   UNTIL FLOOD WATERS RECEDE AND THE TRAIL HEAD IS REOPENED USE THE TRAIL ACCESS LOCATED OFF OF CANNON RIVER AVENUE NEAR THE SOFTBALL FIELDS.
Map to Cannon Falls Softball Field Access
Thank you,
Cannon Valley Trail Staff
---
Other Important Information:
Just down the 'trail' from the Cannon Valley Trail are two County parks…..Dakota County Regional Park Lake Byllesby and Goodhue County Park Lake Byllesby.  A two mile trail extension leading out of Cannon Falls has connected these two beautiful parks to the Cannon Valley Trail.  Both of these parks are updating their master plans and are looking for public input.
Please take time to fill out their online survey to help with future planning.
Dakota County Master Plan Info
Goodhue County Master Plan Info
---

The Cannon Valley Trail is a 19.7 mile long trail that runs through diverse and spectacular scenery on a former Chicago Great Western Railroad line connecting the cities of Cannon Falls, Welch and Red Wing in beautiful southeastern Minnesota.
Paralleling the Cannon River, the Trail offers glimpses and panoramas of the valley and gradually descends 115 feet in elevation from Cannon Falls to Red Wing.  From overhanging cliffs to views of extensive wetland complexes, nature's seasonal changes are vividly displayed.
The Trail is open year round for bicycling, in-line skating, skateboarding, similar wheeled recreational devices, hiking, walking and cross country skiing.  Trail users age 18 or older must have a valid Wheel Pass when using the trail from April 1st – November 1st.  The Great Minnesota Ski Pass is required to cross-country ski on the Cannon Valley Trail. 
---
A place to enjoy nature with your family & friends.
---
Cannon Valley Trail Guests, Tom & Katelyn, tell us their story and why they enjoy biking the Cannon Valley Trail.
---
2016 Summer Photos!
---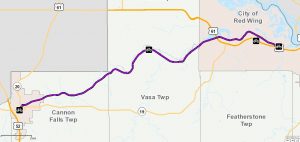 •Search for trail features including Trail Access, Parking, Restrooms, Water Stations, and Wheel Pass Pay Stations.
•See a photo of each trail feature.
•Click 'Find My Location' to see your current trail location.
•Please review this 'Help Document' if you need help with the Mobile App!
---
Please, no pets on the Cannon Valley Trail! (Including those in baskets and trailers)